---
What's your Myers-Briggs? - Zarquad - 07-09-2018

You can take the test here: https://www.16personalities.com/free-personality-test

I've done it a lot of times over the last few years, and just did it again for some reason. I've surprisingly gotten INTJ (architect) every time, despite the fact that I think I've changed in a lot of ways over the past few years.


---
RE: What's your Myers-Briggs? - Genisis - 07-09-2018

Adventurer on my part :)


---
RE: What's your Myers-Briggs? - emorox - 07-09-2018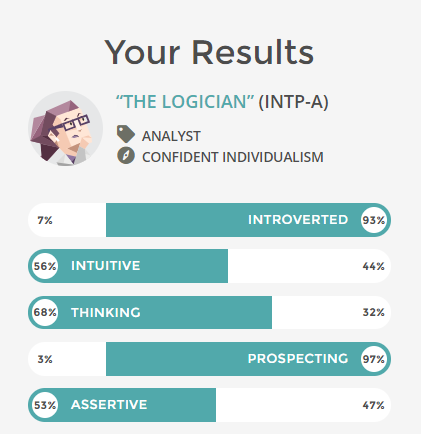 ---
RE: What's your Myers-Briggs? - Thea - 07-16-2018

I've taken the test thrice.

1. LOGICIAN
2. MEDIATOR
3. LOGICIAN


---
RE: What's your Myers-Briggs? - GDeoxys - 07-20-2018

YOUR PERSONALITY TYPE IS:
ADVOCATE (INFJ-T)


---
RE: What's your Myers-Briggs? - Ayso - 08-12-2018

MEDIATOR (INFP-A)


---